The ULTIMATE Quick Reference Guide to Know Exactly When, Where, and How to Plant Your Veggies Without Wasting Time Trying To Figure It All Out On Your Own
Includes Our Favorite Varieties!
Quickly find out how often and when to seed each crop
Which plants to direct seed into your garden and which ones to transplant
The best plant spacing for maximum production (aka your biggest harvest ever!)
Our favorite veggie varieties
And more...
Almost there: Please enter your valid email and click the button below to enter to giveaway.
Enter your email for instant access:
We value your privacy: Your information is 100% secure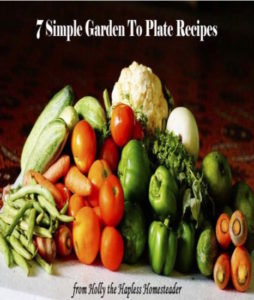 INSTANT BONUS: "7 Simple Garden To Plate Recipes" from Holly the Hapless Homesteader. From a simple Greek salad to creamy butternut squash soup and crispy kale chips... your mouth will be watering over these delicious treats!