MEMBERS ONLY - OVER 70% OFF
Born to Grow Home Gardening Course
NEW! BONUS demonstration videos, worksheets, resources, and more...
18+ hours of video training
169+ pages of worksheets
48 teaching and demonstration videos
BONUS: Keeping a GMO-free Garden
And more...
FRESH FOOD ALL YEAR ROUND!
Ready to Learn How to Grow Your Very Own Beautiful Veggies That Burst in Your Mouth with Flavor?
Would you love to grow enough food for your family?
Do you dream of living off the land?
How would you like to know how to keep your garden weed free in less then 5 minutes a week?
Hey, it's Paul here and imagine having an extra $500-$700 to add to your savings account or to put to some other use every year! Or feeling the healthiest and most fulfilled ever. The key here is knowing how to grow an abundance of nutrient-dense home grown food and then how to optimize your growth.
And here is where I'd love to help you out.
The Born to Grow Home Gardening Course is designed to help you gain the knowledge and the skills you need to make your home garden a success without spending hours on your knees pulling weeds or constantly fighting the bug battle.
Having a mentor can get you there faster while avoiding costly (and time consuming!) mistakes...
Here's What You'll Learn Inside:
The Home Gardening Course
Module 1:
PLANNING AND PREPARATION
Here's what you'll learn:
A good plan is such a foundation for a successful garden. In module one we'll dive down into planning your garden including choosing what to grow, determining how much you want to tackle, and even deciding where to plant your veggies.
You'll also learn why growing in beds is usually more efficient than rows and how to practically prepare your beds or make a raised bed.
Here's what you'll learn:

When it comes to organic gardening there is hardly anything more important than a healthy soil.
Module two begins our journey into learning about the soil, what composes a healthy soil structure, the organic matter and chemical balances in the soil, nutrient availability, and the host of microbial life that live and thrive in a healthy soil and interact in amazing ways with the veggies we grow.
Here's what you'll learn:
It may be one thing to know about what makes up a healthy soil, but it's another thing to get your soil there.
In module three we'll cover how to do a soil test, and then how to analyze the soil test and amend your soil appropriately.
And since organic matter is so important to any soil, we'll cover making a successful compost pile and using green manures and cover crops. (No worries, you'll find out what that is)
Here's what you'll learn:
Different veggies have different nutrient needs and have different effects on the soil they are grown in. Some feed heavily on the nutrients in the soil while others help build up a healthy soil.
In module four we'll discuss why rotating veggies in the garden is important, how different veggies effect the soil and each other, and how to make your own rotation. There's even a couple sample rotations you can use right away.
Here's what you'll learn:
In my work with Bountiful Blessings Farm we actually transplant almost all of the veggies we grow – but there are some where direct seeding is the more efficient way to go.
In module five you'll learn about which plants can be easier to direct seed, practical tips for efficiency, and some tools that can be helpful in the process. You'll even get to see some demonstrations to help you on your way.
Here's what you'll learn:

Transplanting can give your plants a huge head start in the garden.
Module six covers which plants you should grow inside and then transplant, the host of advantages that transplanting has, and why we like to use soil blocks instead of plug trays to start our starts in.
You'll learn what soil blocking is, how to grow starts in soil blocks, and then how to transplant them out successfully - even if you're a complete beginner.
Here's what you'll learn:
No one likes to spend hours on their knees pulling weeds (at least I don't think most people do). The neat thing is that you don't have to.
In module seven you'll learn about how you can easily take care of weeds without having to pull them out with a dinner knife or spading fork. You'll also learn some practical ways to trellis your veggies and how to keep them watered well.
Module 8:
PESTS AND DISEASES
Here's what you'll learn:
Pests can be such a problem in an organic garden – but it doesn't always have to be so.
In module eight you'll learn about why we choose to take a plant-positive approach to the garden rather than a pest-negative one.
You'll also learn about how a healthy plant is more resistant to insect pests and diseases and some things you can do if your garden is being overrun with them.
Module 9:
HARVEST AND STORAGE
Here's what you'll learn:
It's one thing to grow a garden full of nutritious veggies, but the real treat is when you get to harvest and eat them!
In module nine you'll learn about when to harvest your veggies, the importance of fresh food, and then practical tips for storing your produce.
You'll learn which foods should NOT be stored together and how to store storage crops like potatoes, garlic, onions, and more.
Module 10:
SEASON EXTENSION
Here's what you'll learn:

For most people the gardening season only lasts a few months during the summer, but why not take it longer into fall or even straight through the winter?
In module ten you'll learn what veggies grow well in the cold, why timing is so important for having a successful fall or winter garden, and practical ways you can protect your precious veggies without breaking your pocket book.
Module 11:
WINTER GARDENING
Here's what you'll learn:
Growing a garden in the winter is a bit different than growing one in the summer.
In module eleven you'll learn about taking care of your garden during the winter months.
And then for those who have a greenhouse or are interested in using one you'll learn about protecting plants in a greenhouse, heating the house, dealing with snow, and caring for the soil inside.
Module 12:
GARDEN CONNECTIONS
Here's what you'll learn:
Unfortunately, our society at large is largely disconnected from the natural world.
In module twelve we'll talk about reconnecting back with nature and about how the garden can teach us so many principles of life that carry over into every area of our lives.
And ultimately you'll learn about how we can catch a clearer picture of the love of our Creator through the natural world He has created.
The Training is Yours For Life!
The training above represents 33 gardening lessons with more than 45 garden training and demonstration videos, 160+ pages of worksheets, notes and other documents.
These videos include teaching along with step-by-step instruction for specific gardening strategies that will get you to a desired end result. For example, how to keep your garden weed free without spending hours on your knees, how to deal with pests and diseases naturally, how to prepare a bed from scratch, and so much more...
And today you can get your very own physical copy for use at your own convenience. Anytime. Anywhere.
+ BONUS! Growing a GMO-FREE Garden
Understanding GMOs and How to Grow Wholesome Veggies Presentation
This webinar with my Dad was a huge hit covering what GMO's are and why you should be concerned, how to keep your garden GMO free, which seed companies are safe to buy seeds from, why the soil is so important and how to improve yours, how to start plants from seed that will thrive, how to deal with pests and diseases naturally, and more…
No matter where you are in your gardening journey... we have something for you. And since we don't believe in tooting our own horn (ok, we do a little bit), here are REAL members telling you, in their own words, what they enjoy most about Born to Grow:
"We have been gardening for a number of years now but I have felt like we didn't know enough. Books are good in and of themselves but to actually see the steps to good gardening methods in video was very helpful and will be useful in the years to come. I've learned so much from planning my garden, helpful garden tools, soil prep, planting, watering, trellising, and cool tips along the way such as how to have the best tasting tomato and fruit tricks. Love the resources too."
Heidi and Randy Prewitt
California USA
"This is my fourth year of gardening, and I learn new things every year. Born to Grow has provided me with so much useful instruction that I'm implementing. The classes and videos are easy to understand, the material is well-researched, and the instruction is practical. I look forward to having my best garden yet!"
Joelle - Tennessee McNulty USA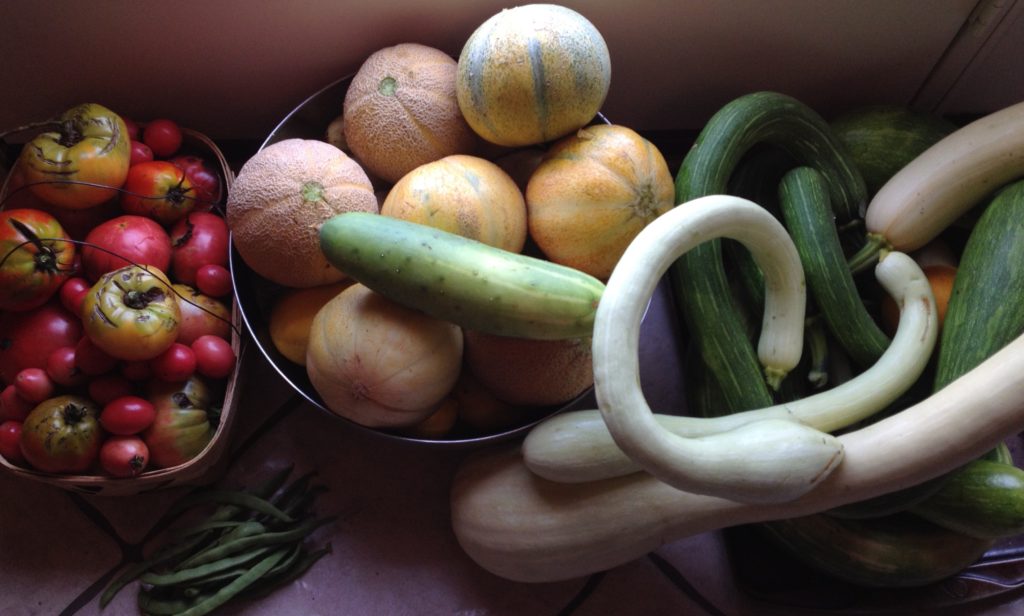 "I tried implementing what I learned through the school this summer from seed to harvest and we had some good success, which really made me like a happy kid again. It was a small garden space, about 20' x 12', but we this year harvested a good amount of cherry tomatoes, medium size tomatoes, cucumbers, bell peppers, Korean hot peppers, Russian kale, Swiss chard, lettuce, green beans, dill, eggplant, and other plants I don't know the English name for. Unfortunately, some crops didn't make it to fruit, but I was too happy with the ones that did to complain. There was a very noticeable difference in the amount of fruitage this year compared to last year. I'm convinced myself now that a large part of it was because of the soil preparation as suggested at the start of spring (maybe would have been better if I started earlier in winter). But overall, I really got to see how God can bless by following the simple yet powerful principles He designed in nature. I really got to give credit where credit is due, so I thank God and thank you for sharing the knowledge and wisdom to the masses."
Roy Kim - New York USA

"I recently became a member of the Born to Grow community.  I grew up growing a big garden with my parents and I am very passionate about gardening as an adult.  Though I consider myself to be a somewhat experienced gardener, I cannot even tell you how much I've learned already from the gardening courses.  For example, I never realized how much there is to know about soil health!  Just today my kids and I counted the # of worms in a square foot of our garden dirt.  It was a lot of fun - and told us a lot about our soil.  I would've never known to do this had it not been for being a part of the Born to Grow community.  I have learned many other things about soil testing, winter gardening, greenhouse gardening, and soil blocking, all of which I can't wait to try.  I'm looking forward to learning more from Paul and the team at Born to Grow so I can become a more efficient gardener and provide even more organic produce for my family.  I would recommend this course to anyone - whether an experienced gardener or someone just getting started!"
LaRee Colburn - Nebraska USA
"Because I know very little about gardening, (but love to grow things,) this Born to Grow Gardening Course is an absolute must for me! Paul Dysinger seems to know more, and willingly share more than anyone that I have ever come across. And he makes it all so easy and accessible. I would gladly pay for this course over again. It is worth every dime! Also, I go at so slow a pace that it is comforting that all the information remains available to me."
Cynthia Jackson - Washington USA
Accidental Masterpiece
"I have enjoyed this course very much. I especially liked the fact that God was brought into the course. That has been a great blessing. All the information will be so helpful in my garden this year. Now I just need winter to be over!"
Debbie Schwartz - Canada
"Born to Grow has been a real blessing to me to help me stay connected to others who are growing their own veggies or at least want to.  I have been a gardener for about 30 years and I still learn things from Paul and his dad.  If I had a son, I'd like to have as good a working relationship as they do.  I'm working with my grandson who is four.  Born to Grow is a great way to get reliable knowledge about organic gardening.
I moved to an apartment building in Chattanooga, TN in July.  There was only one small space in the yard that got much sun so I put in an 8 foot by 4 foot garden of Russian kale, Georgia southern collards, and black seeded Simpson lettuce in September.  By November, the shadow from the apartment building next door shaded the garden by 2:30pm onward.  The lettuce needed more sun and didn't do well, but the kale and collards did well all winter.  I covered the bed with a single layer of plastic over pvc hoops. I ate fresh greens all winter.  The collards started to bolt the first of March, so I pulled them out and cooked them; sweet!  The kale is still growing strong, but I have started new plants to replace everything since the kale will probably bolt also."
James Hunt - Tennessee USA
"I was very excited when I came across Paul Dysinger's Born to Grow Organic Gardening Course [included inside Garden Launch] a few months ago when it was first released. Even in the introductory videos before I purchased the course I really liked Paul's down-to-earth style and friendly presentation manner.
The course itself is awesome… Paul keeps working to improve not only the information he is providing but also the Members area which is really easy to find your way around.
Another thing I particularly appreciate is he has taken a lot of care to make sure the video presentations are of a superb quality.
Being a keen gardener myself, I am always looking to learn more, and I strongly recommend the Born to Grow course to anyone interested in Organic Gardening. Regardless of your level of experience, or the room you have to garden, I am sure you will benefit from this training for years to come…"
Lynne Carey - Australia
Urban Garden Survival
GET YOUR VERY OWN COPY HERE!
The Born to Grow Home Gardening Course
---
Home Gardening Course Flash Drive with 12 Training Modules including 33 gardening lessons
18+ Hours of premium garden training
160+ Pages of worksheets, notes and resource documents
Over 45 teaching and demonstration videos
BONUS: Keeping a GMO-Free Garden Presentation
NEW BONUS: Demonstration videos, worksheets, resources, and more...
Born to Grow Home Gardening Course
$85
OVER 70% OFF MEMBERS ONLY!
REGULAR:
$300
Home Gardening Course Flash Drive with 12 Training Modules including 33 gardening lessons

18+ Hours of premium garden training

160+ Pages of worksheets, notes and resource documents

Over 45 teaching and demonstration videos

BONUS: Keeping a GMO-Free Garden Presentation
OUR 1 YEAR ROCK SOLID GUARANTEE
On top of everything else, we'll shoulder ALL of the risk for you with our 1 Year Rock Solid Guarantee.

You see, we are completely confident that when you follow our step-by-step training you'll experience the joy of harvesting MORE veggies that taste better than ever before. And all with LESS work or stress.
In fact, we are confident enough to back it up with your money. So, if for some reason you follow all of our training advice and at the end of a year look back and haven't seen an improvement in your harvest or if it didn't save you any work - simply send us an email showing us that you put the training to the test and what you did (give us some proof that you used the training with some pictures of your garden, the soil test you did etc.) and ask for a refund.
Honestly, if the training didn't work for you, then it was a waste of your time and you shouldn't have to pay for it. So we'll back it up and give you a full refund no questions asked.
Hey, we're confident that's not going to happen and that's why we're willing to hold such a rock solid guarantee. The risk is on us. Sound fair?
Trust really is everything... whether you are investing one dollar or a thousand dollars. We are REAL people. We have hundreds of REAL members and customers.
My name is Paul Dysinger and this is my wife Natasha. I've been gardening all my life since I was just a little tyke and my mom got me to grow some artichokes in the backyard. Later my family moved to Tennessee, where my Dad, Edwin joined my Uncle John in running our small scale organic family farm... where we grow over 70 varieties of vegetables, herbs and berries - all year round.
There have been lots of lessons over the years... not only in our own experience, but as we've taught and learned from others as well.
And now, years later, I live off-grid with my wife Natasha surrounded by some of the most beautiful countryside in middle TN. Together with my Dad, Edwin we love helping others learn how to grow their own nutrient dense food from their own backyards.
Come and join us... the water is mighty fine.
The Born to Grow Community Pledge
We promise to deliver straightforward training and advice showing you how to set up a productive and healthy garden to grow your own nutrient dense organic food. We promise to treat you just like we treat our own family. And we promise there is no hype. If you don't notice any improvement in your garden during the first year you try it out... you can simply send us an email, show us some proof that you put the training to use (tried what we teach) and we'll refund your full order. All of the risk is squarely on our shoulders... where it belongs.